Britain steps backward as EU faces decline
The UK voted to leave the EU, with the Leave supporters beating Remain by 51.9 percent to 48.1 percent. The slight victory is likely to have opened a Pandora's box in Europe, pushing the continent into chaos.
A lose-lose situation is already emerging. The British pound fell 10 percent at one stage on Friday. The euro fell 3 percent.
David Cameron announced he would quit as British prime minister. Scotland may start a new independence referendum.
There are also calls in the Netherlands and France for a similar exit referendum.
The UK is just over 300 years old. In its heyday it was known as an empire on which the sun never set, with colonies all over the world (Britain was the former imperial power - whose military forces repeatedly invaded China in the 19th century - and the rising Asian giant, now the world's second-largest economy)
Now it is stepping back to where it was.
Britons are already showing a losing mind-set. They may become citizens of a nation that prefers to shut itself from the outside world.
The Leave advocates had been calculating whether their pensions were guaranteed or migrants were encroaching on their neighborhood. Bigger topics such as the country's aspirations or its global strategy were overlooked.
Britain has been a special member of the EU. It has not joined the eurozone, nor adopted the Schengen agreement. France and Germany have been resentful of Britain's half-hearted presence in the EU. In a sense, Britain's exit may be a relief for both sides.
However, such relief is in effect a major setback for European integration. Such setbacks don't happen in good times. Britain's exit reflects the general decline of Europe.
The world's center used to lie on the two sides of the Atlantic. Now the focus has shifted to the Pacific. East Asia has witnessed decades of high-speed growth and prosperity. Europe stays where it was, becoming the world's center of museums and tourist destinations. Unfortunately, Europe is also close to the chaotic Middle East. Waves of refugees flood into Europe, coinciding with increasing terrorist attacks.
Europe is not able to resolve the problems it is facing. The public are confused and disappointed and extremism is steading.
The Leave grouping beat out the Remain supporters by only 4 percentage points, which could have resulted from some temporary reasons. Is it really fair to decide Britain's future this way?
Such changes will benefit the US, which will lose a strong rival in terms of the dominance of its currency. Politically it will be easier for the US to influence Europe.
There is no direct political impact on Russia and China. For the Chinese people, who are at a critical time to learn about globalization and democracy, they will continue to watch the consequence of Britain's embracing of a "democratic" referendum. - Global Times.
No negative impact from UK vote for Malaysia
In good hands: Liew having a discussion with former London mayor Boris Johnson. Liew says he has confidence UK government will move the country forward on every front.
Britain is still a hugely important economy in Europe, says Liew
KUALA LUMPUR : Malaysian property firms with developments in the United Kingdom say that their ventures will not be negatively impacted as a result of the June 23 referendum whereby British citizens voted to exit the European Union.
Eco World International Bhd executive vice-chairman Tan Sri Liew Kee Sin said that while the decisive win by the Brexit camp was unexpected, the group is optimistic that the results hold a silver lining going forward.
"Now that the results of the EU referendum are known, the long uncertainty which has caused many investors to hold back on decision making is finally over. Britain is still a hugely important economy in Europe with highly principled, professional and competent leaders," he said in a statement.
Liew added that he has every confidence that the British government will do their utmost to take proactive measures to assuage post-Brexit concerns and move the UK forward on every front.
London's position as a prime destination for global real estate investment is unlikely to change given that many of the fundamental drivers of demand are still intact. Chief among them are transparency of laws, sesurity and ease of ownership, and shortage of supply, among others, Liew noted.
EWI, which is en route to listing on Bursa Malaysia, has three projects in London, namely the London City Island Phase 2 in East London, Embassy Gardens in Nine Elms, and Wardian London facing the Canary Wharf. All three were launched last year.
"For EWI specifically, it should be noted that through our proposed initial public offering we will be raising equity in ringgit. Now that the sterling has dropped it means that the cost we have to inject into the UK to pay for the developments there will be lower," he points out.
Meanwhile, in a statement reacting to the results of the UK referendum, Sime Darby Bhd, which is undertaking the Battersea Power Station project has reiterated its long term commitment to the venture.
"The results of the referendum is not expected to impact the viability of the project.
"We are confident the iconic development will continue to generate interest in the longer term and that London will continue to remain a key investment destination and financial centre," it said.
Sime Darby has a 40% stake in Battersea. The other joint venture partners are SP Setia Bhd and the Employees Provident Fund with 40% and 20% respectively.
A research note by MIDF Research said global capital markets may take some time to adjust to the Brexit vote which could have adverse repercussions on businesses.
Its group managing director Datuk Mohd Najib Abdullah said that as a result of Brexit, the world is moving into a period of elevated uncertainty, with risk appetite plunging in a flight to safety and security.
As the UK is an important market for Malaysian exporters and an important source of foreign direct investments, any economic malaise from Europe will inevitably affect Malaysia in the longer term, Aboth directly and indirectly, MIDF said. - By afiq Isa The Star
Windfall for Malaysian parents of children studying in Britain
Parents with children studying in Britain are heaving a sigh of relief because the pound has weakened following Brexit.
The ringgit closed at RM5.66 to the pound yesterday, a drop of 4.67% compared to a month ago when it was RM6.03.
Parent Action Group for Education Malaysia chairman Datin Noor Azimah Abdul Rahman said tuition fees would be more affordable.
"For parents who couldn't afford it initially, they may change their minds now," she said when contacted.
She added that one should look at the positive instead of focusing on the negative implications.
A parent, who asked to be identified only as Auntie Chris, has a son studying biotechnology at Imperial College London, and said: "We are liquidating our accounts to take advantage of the drop in the pound, which is great news."
She said her son, who is in his second year, planned to pursue his master's in Britain after graduation but had put his plan on hold due to the strong pound.
"We asked him to work first, after graduating, due to the financial constraints but with the pound dropping significantly, going for his master's may be back on the table," she said.
Another parent, Azura Abdullah, said she did not expect her son's tuition fees to increase any time soon.
Her son is a second-year law student at University of Exeter.
Some parents were fearful of Britain's exit from the European Union.
Despite the weakened pound, Azura felt the price of goods may increase in the short term because Britain could no longer leverage on EU trade deals, which could increase the cost of living there for her son.
"But we hope to offset this with the lower currency rate as the pound will devalue in the short to middle term," Azura added.
Auntie Chris said she was worried that Britain's decision may affect job prospects for Malaysians over there.
"If Britain goes into recession, it will affect job prospects for new graduates," she said, adding that immigration controls may also be tightened following Brexit.
Chief executive officer and provost of the University of Nottingham Malaysia campus Prof Christine Ennew said parents should expect cheaper education.
"Students should be able to do more with their money in the UK, at least in the short term, say over the next couple of years," she said.
Prof Ennew admitted that there could be some concerns over the issuing of student visas.
"However, Boris Johnson, one of the leading figures in the Brexit camp, has always been very supportive of international students and this should give some reassurance that the visa regime will not necessarily become harder for students from outside the EU," she said.
She added that it was likely that EU students would be more affected than those from outside the union. - The Star
Related post:
2016年5月13日 ... Chinese-language editorial (see below) published earlier today, the Global Times said that "barbarians" in the British media had blown the ...
Related: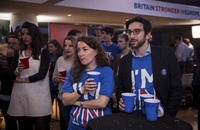 In spite of earnest pleas for the United Kingdom to remain, and warnings of dire economic, political consequences of Brexit (or Britain's exit from the EU), the referendum was a matter of popular choice, not a process dictated by reason and cool-headed analysis.
UK-M'sian partnership remains unchanged
Pound's sudden dip a headache
Cameron out of No. 10 by October
Our students an anxious lot
M'sian developers unfazed by EU withdrawal
UK's departure drives KLCI down
Stunned EU tells Britain to go quickly
Impact on Malaysia minimal in the long run, says Mustapa
Britain votes to leave EU
If the UK votes to leave, it will become an Atlantic orphan and lose its special relationship with the EU.